Our focus is to inspire positive change to help generate and foster meaningful outcomes.
Colucent Media shines a bright light on Indigenous and Canadian authors and storytellers who are making positive and meaningful differences in the world.
About Colucent Media
We create, co-create and publish meaningful books and articles that are meant to inspire, inform and awaken individuals, communities and governments
We profile authors and storytellers who are making positive and meaningful differences in our shared world
We deliver communications around areas associated with equity and sustainability (i.e., social, environmental, economic aspects)
We provide strategic and impactful communication consulting services… words
About the Founders of Colucent Media Inc
Our company was created by a Father Daughter storytelling duo. Tom and Jaime are authors who delight in the use of words and images to positively impact audiences. At the age of four, Jaime collaborated with her Dad on their first book, about a rock that was bullied because it was multi-colored. Since then, Jaime has contributed to blogs, a magazine discussing mental health, research papers, and children's books. She is still a storyteller and has created a career as an Inclusive Designer. Tom has a 40-year career in environmental consulting and has written dozens of reports, articles and has presented his work in many countries around the world.
Colucent Media is based in Ontario, Canada and we recognize that we occupy the traditional territory of the Wendat, Anishnaabeg, Haudenosaunee Peoples. Our occupation of land on Turtle Island is a privilege that we don't take for granted. We stand alongside Indigenous peoples and are fully committed to reconciliation.
Tom Hilditch
Becoming an Enlightened Consultant. Awakened by Cancer.
In his successful, forty-year career in the consulting industry, Tom Hilditch never found much time for self-reflection. But all that changed when a frightening medical diagnosis forced him into a prolonged period of quiet time, which coincided with the COVID pandemic and an era of massive social upheaval. When Tom received this precious gift of time to reflect, he experienced a personal transformation that showed him the need to clearly observe and understand himself and others better.
Becoming an Enlightened Consultant showcases Tom's individual awakening, and through this personal lens, it reflects a transformation underway in the consulting industry. This book is geared toward consultants in all different stages of their careers.
"It's refreshing to read this candid, frank and honest story of how Tom navigated career and life challenges to build a better world. As an environmental industry leader and one of Canada's top consultants, Tom shares a deeply personal narrative and equally deep understanding of what it means for a consultant to practice self awareness."
Dave Hardy RPP, President, Hardy Stevenson and Associates Limited, Executive Director, Institute for New Suburbanism
"This is a must read for those who hope to manage the next generation."
Catherine Lyons, Partner with Goodmans LLP
"Tom provides us with deep, practical insights, borne out of his experiences, for those committed to leading successful consulting firms in any industry… His writing reflects his ongoing commitment to relationships – both with his employees and with his clients. This, his authenticity, integrity, curiosity and never-ending openness to innovate and make a difference, are hallmarks of this remarkable leader."
-Doreen E Harvey, MBA, Human Resources Consultant
Books in Process: The Manitou Stone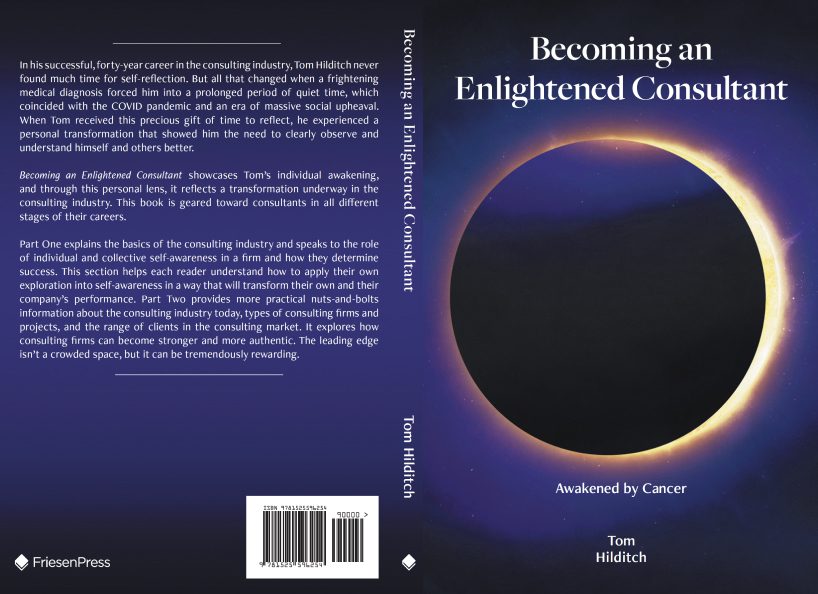 Becoming an Enlightened Consultant
Written by Tom Hilditch
$30.49 (paperback)
Buy Now
"A cogent, grounded examination of business practices."
"Hilditch is a qualified and convincing advocate for the concept, and he makes it clear that being authentic on the job doesn't conflict with delivering solid financial results."
Part One explains the basics of the consulting industry and speaks to the role of individual and collective self-awareness in a firm and how they determine success. This section helps each reader understand how to apply their own exploration into self-awareness in a way that will transform their own and their company's performance. Part Two provides more practical nuts-and-bolts information about the consulting industry today, types of consulting firms and projects, and the range of clients in the consulting market. It explores how consulting firms can become stronger and more authentic. The leading edge isn't a crowded space, but it can be tremendously rewarding.
Jaime Hilditch
The Earth Needs a Break from Plastic
Jaime is a new author with a particular focus on global environmental and social equity issues. She is developing a series of books to be shared with youth, recognizing the inherent importance of their ideas and imaginations, and recognizing that they are our future. 
This book is the first in a series that Jaime is developing. The Earth Needs a Break from Plastic informs and inspires our youth to reduce their plastic footprint on the planet and to get creative with other types of materials and tactics. This book will be most appreciated by kids aged six to eight years old. It uses rhyming, paper cutouts and collected plastic debris to directly engage youth in creating environmental solutions.
Jaime's book was a Registered Graphic Designers (RGD) Award Finalist and won Third Place under the Editorial and Book Design category at the Advertising & Design Club of Canada's (ADCC) Awards.
Books in Process: Seasons in Fashion
The Earth Needs a Break from Plastic
Written by Jaime Hilditch
$13.49 (paperback)
Buy Now
"The Earth Needs a Break from Plastic," the first in a series of books educating young people about global issues. This edition focuses on plastic; a useful but dangerous material. The book offers alternative materials that children can use instead of plastic. Paper cut-outs and collected plastics were used to form the book's illustrations. All products used were environmentally friendly, including paper scraps and cut-offs.
Get in touch
Colucent Media is determined to make a positive difference. We are a Canadian firm with extensive global interests and contacts. As we grow and develop, our website will be updated and managed as a platform and as an amplifier for the voices of those who deserve more respect and attention.
Connect directly:
info@colucentmedia.com